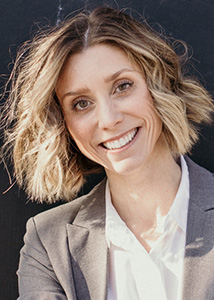 Jamie Henderson
NXT Bank
Jamie Henderson has proven herself in a number of roles at NXT Bank over the past decade, currently serving as assistant vice president and e-services manager. Outside of work, her oldest daughter was born with a congenital heart defect, leading her and her husband to start an annual fundraiser benefitting the Ronald McDonald House Charities. Jamie now serves as board chair. And this year, she helped start a non-profit organization, the Kiss Your Kids Foundation, to support area children and their families.
What are your motivational must-haves?
Song: I love all music. You'll find a wide variety on my playlists — from old school hip hop to Motown, praise and worship. You never know what you'll come across when you hit shuffle on one of my playlists!
Book or Author: Anything by Brené Brown
Person:  My husband Kale. He is always encouraging, loving and reminds me of what I am capable of.daughter